Self-Ligating Braces
Ordinary traditional braces use elastic bands or o-rings in hold the archwire with the brackets. Self-ligating braces does not require ligatures or small bands-o-rings. Instead, self-ligating braces uses a unique clip to hold the arch wire in place. This special clip is available whether you choose metal or translucent ceramic self-ligating braces. Self Ligating braces are thus often referred to as speed braces, as the brace system creates less friction in between the wires and brackets. Self-ligating braces are offered in traditional metal brackets as well as clear brackets.

Self-Ligating Bracket Side View

Traditional Brackets

Self-Ligating Brackets
The two most popular brand of Self-Ligating Braces include:
Damon Braces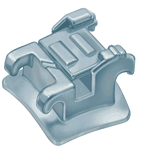 Damon 2 Braces
By combining passive self-ligating brackets with high-tech archwires, the Damon System is a unique mechanical system that permits low forces to work in conjunction with face, tongue muscles, bone and tissue. Low forces minimize discomfort.

Damon 3 braces
The original Damon and Damon 2 system consists of metal based arch wire locking brackets
The new Damon 3 braces system brackets are consists of a combination of both clear materials and stainless steel.
Advantages of the Damon System:
Damon braces enables extraordinary results
Damon braces allows faster treatment time and fewer appointments for certain cases
Damon braces provides better patient comfort
Fewer extractions are required for certain cases using the damon system
3M Unitek SL Clarity Braces

3M Unitek SL Braces
3M Unitek SL self-ligating braces are available in two styles - metal and translucent ceramic in fitting to orthodontic needs of patients.

3M Clarity Braces Smile
3M self-ligating braces provides:
Comfort : 3M self-ligating braces move teeth with light forces
Convenient : teeth respond faster with less force and for certain cases require fewer adjustments than normal braces
Looks Great: the 3M self-ligating braces offers metal and translucent ceramic braces with the same great self-ligating features
Easy Oral Care : 3M self-ligating braces does not use elastic bands that tends to attract plaque and catch food making it easier to clean teeth and maintain good oral hygiene