Prosthodontic Dentistry
Prosthodontic Dentistry or Prosthetic Dentistry involves treating missing teeth or repairing existing teeth that have significant damage. Prosthodontics aids in the rehabilitation of a complete dentition or replacement of one or two teeth.
Porcelain Crowns

Porcelain crowns are often called dental caps used to encase damaged or severely chipped teeth. Dental crowns are done to rebuild broken or decayed teeth back to their original shape and are also done to strengthen root canal treated teeth.
Dental Bridges

Porcelain Bridges consists of at least 2 units of dental crowns or more. Dental bridges are good options in replacing missing gaps between healthly adjacent supporting teeth.
Dental Implants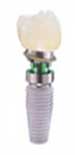 Dental implants functions similiar to having new tooth roots with either crowns, fixed bridges or overdentures placed on the dental implants posts in replacing missing teeth. Advances in materials surfaces and dental implant technologies has reduced dental implant treatment timeframe for certains cases from 6 months to just 4 to 6 several weeks.
Single dental implants, multiple dental implants and full arch dental implants may be done in replacing missing gaps using conventional implants, immediate loaded implants, one day implants.
Dentures

Dentures are removable replacements for missing teeth made either of acrylic resin or in combination with various metals.
Dentures may be partial or complete.