Laser Tooth Whitening at BIDC Thailand Dental Center
Laser tooth whitening are one of the most advanced in-office accelerated tooth whitening system available on the market. Unlike other methods of tooth whitening, laser tooth whitening uses laser machines and patented tooth whitening gels to reverse discoloration of tooth enamel. The two well-known laser tooth whitening done at BIDC Thailand dental center is by LaserSmile and Opus 10.
The LaserSmile® and Opus 10 tooth whitneing systems combine an activation gel with the laser's unique characteristics. The primary ingredient in the laser tooth whitening gel has been used in teeth whitening for decades. The professional in-office tooth whitening procedure is quick and easy. In just one visit to the dental office, you can sit back, relax and in 60 minutes you will leave with a bright new smile!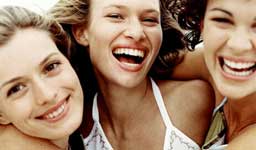 LaserSmile Laser Machine

Opus 10 Laser Machine
Goto website on all about the various types of tooth whitening treatments in Thailand to find out more about frequently asked tooth whitening questions, what is the difference between the laser teeth whitening, zoom teeth whitening and BriteSmile teeth whitening plus other teeth whitening methods.
View tooth whitening costs at Bangkok International Dental Center's dental clinics.