Porcelain Veneers at BIDC Thailand Dental Center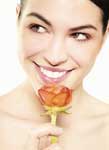 Porcelain Veneers are thin wafer porcelain pieces placed over the front teeth to change color, shape, size of the teeth and to resolve any irregularities in teeth. Below are some veneers cases done at BIDC by our cosmestic dentist:
The most common and popular brands of veneers include:
IPS Empress II and IPS Empress Esthetics
Lumineers
Advantages of Porcelain Veneers
Typically porcelain veneers are difficult to stain and durable
Ceramic veneers corrects the mild misalignment of teeth enabling "instant braces" and treatment to be completed in one phase
Porcelain veneers are able to brightens and whiten your smile permanently and improve self-esteem
Porcelain veneers have translucence and texture similar to that of natural enamel
Porcelain veneers are able to closes gaps between teeth
Porcelain veneers can lengthens and re-shape teeth to required specifications
Veneers repairs chipped, broken, worn down or misshapen teeth
Porcelain veneers can cover tretracycline staining, fluorosis and large fillings
Gum tissue tolerates porcelain well, thus a material that is biocompatible
Color of a porcelain veneers can be selected enabling a holloywood smile
Porcelain veneers require less extensive shaping compared to crowns
BIDC Thailand Dental Center Dental Laboratories
At BIDC Cosmetic Dental Center, BIDC has its own dedicated in-house dental laboratories within its 7 storey dental building in ensuring quality checks and standards. This also enables immeidate chairside shade selection and adjustments as well as faster logistics and turnaround timings for more effective treatment scheudling. One dental laboratory specailizes in ceramic esthetic labworks. A second dental laboratory specailizes in dental proshetics (crown, bridge and dentures) over dental implants.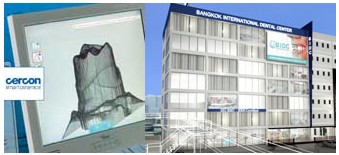 Dental Makeover Dental Bridges Cases at BIDC Dental Center
With natural esthetics and advances in techniques, a dental makeover using dental crowns and dental bridges can now be done in a matter of days!
See our case gallery done at Bangkok International Dental Center (BIDC).