Award-winning dental center in Thailand - Bangkok International Dental Clinic (BIDC dental center)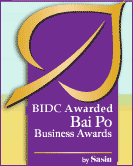 Bangkok International Dental Center (BIDC) receives the the prestigious "Bai Po Business Awards by Sasin" for the year 2010. The Baipo award presented by Siam Commercial Bank (SCB) and the Sasin Graduate Institute of Business Administration of Chulalongkorn University, reflect the strong potential and high quality of Thai SMEs.
This year, Bangkok International Dental Center has been bestowed the Baipo Award in the area of Customer Focus, Quality and Branding.
Established in 2007 to recognize successful Thai companies demonstrating distinction among peers, the award aims to inspire local business operators to be more active in continuously enhancing their capabilities,and to assist them in becoming role models for other local small and medium enterprises in setting good standards and boosting sustainable economic growth.