Inlays and Onlays at BIDC Thailand Dental Center

Inlays and onlays or overlays, are sometimes called indirect composites, are done when there is missing tooth structure missing that cannot be replaced with composite filling material due to its larger size.
When inlays and onlays are done, decay is removed and a impression of the prepared surface is taken. This mold impression is sent to the dental laboratory to create the inlay and only. On delivery, the inlay or onlay peice is bonded to the preped tooth, restoring its original size, shape and color.
Advantages of Inlays and Onlays
inlays and onlays are strong as they are created indirectly in a laboratory
inlays and onlays protects teeth from fracturing and strengthens teeth
inlays and onlays removes only decayed areas preserving healthy tooth structure
inlays and onlays do not excessively wear opposing teeth
Types of Inlays and Onlays
Inlays and Onlays may be made from alloys or all porcleain materials.
Porcelain Inlay

Porcelain Onlay

Gold Inlay

Gold Onlay

BIDC Thailand Dental Center Dental Laboratories
At BIDC Cosmetic Dental Center, BIDC has its own dedicated in-house dental laboratories within its 7 storey dental building in ensuring quality checks and standards. This also enables immeidate chairside shade selection and adjustments as well as faster logistics and turnaround timings for more effective treatment scheudling. One dental laboratory specailizes in ceramic esthetic labworks including inlays, onlays, crowns, bridges and veneers.

Dental Makeover Dental Bridges Cases at BIDC Dental Center
Filling Replacement with Ceramic Inlays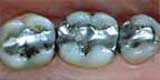 Before with amalgam fillings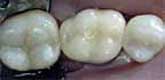 After with ceramic inlays
Filling Replacement with Ceramic Onlay

Before with amalgam fillings

After with ceramic onlay
With natural esthetics and advances in techniques, a dental makeover can now be done in a matter of days!
See our case gallery done at Bangkok International Dental Center (BIDC).