Dental Implants
Dental implants functions similiar to having new tooth roots. With either crowns, fixed bridges or overdentures placed over on the dental implants posts in replacing missing teeth and gaps.

A dental implant is in general composed of 3 parts:
Titanium dental implant post embedded in the bone/gums
Abutment that is screwed to the titanium dental implant post and holds the crown
Crown that is the false tooth over the implant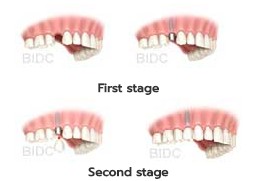 Dental implant treatment may be divided into two stages:
First stage implant post placement : placement of the titanium dental implant post
Second stage fixed prosthetic on implant: making the crown, bridge or overdentures (ie the false teeth) with the abutment to be fitted over the dental implant post
Types of Dental Implants

Immediate Implants, One day Implants or Same Day Implants
Existing teeth is removed and the titanium implant post placed on during the same surgical visit.

Immediate Loaded Implants or Immediate Loading Implants
The temporary or permanent fixed proshetics is loaded onto the implant posts immediately or shortly after placement of the titanium implant post. For full arch missing gap cases, immediate loaded implants may also be done using All-on-4 and All-on-6 dental implant option.

Conventional Implants
Done in two stages. The first phase involves the surgical placement of the implant posts. The implant posts are left to heal for at least 2 months. The second stage involves the fitting of fixed prosthetics (crowns, bridge or overdentures) on the implant posts. Conventional implants may be done for all case indications.
Immediate implants and immediate loaded implants may not be suited for all cases and is dependent on bone condition, dental condition and inidividual case. An initial examination, a panoramic, tomographic x-ray film and/or in certain cases a CT scan is done before your implantologist determines on the feasibility the type of implant to choose. Immediate implants and immediated implants may be done for single missing gap and multiple missing teeth. For missing gaps on full arch, immediate and immediate loaded implants may also be done using all-on-4 and all-on-6 dental implant treatment option.
Conventional implants may be done for all case indications. The conventional dental implants treatment procedure is normally the recommended dental implant treatment procedure for cases requiring bonegrafting and for full mouth reconstruction cases.
Dental Implants Options
Single, multiple or full arch implants may be done in replacing missings gaps.

Brands of Dental Implant Systems
There are a large number of dental implant system available on the market. Many individuals do enquire on the difference between dental implants systems. In general, when considering your brand of dental implant, below are some considerations determining your choice of dental implant system:
Historical research case studies results/establishment
Historical success rates over the medium to long-term
Patented material technologies
Branding of implant system carried within home country
Contact Us in determining if dental implant treatment might be for you and for a FREE consultation on any queries you might have on dental implant treatments.
The top dental implant systems used worldwide:
Straumann : Straumann SLA dental implants
Nobel Biocare: Nobel Replace dental implants
Nobel Biocare: Branemark dental implants
The Bangkok International Dental Center (BIDC) - Official Dental Implant and Training Center
International travellers world wide have sought their dental treatment at Bangkok International Dental Center (BIDC) Dental Implant Center due to a professional and well reputated team of overseas graduated implantologist. Please see more about Dental Implant Center @ BIDC as well as find out more about our dental implant treatment fees.