IPS Empress Veneers at BIDC Thailand Dental Center

The IPS Empress Veneers System, developed by Ivoclar Vivadent, started more than 15 years ago making it one of the most establied ceramic restorative system used worldwide.
The IPS Empress System has been clinically placed with more than 33 million restorations being fabricated throughout the world. IPS Empress Veneers has thus gained a well-known reputation for producing long-lasting, natural-looking results yet maintaining high quality standards.
The IPS Empress system provides natural looking teeth commonly used in cosmetic dentistry. With its layering techniques, the veneers provides the transparency and transluency reflected in natural teeth. Specifications of color shades and shape may be done with porcelain veneers in giving that pleasing beautiful smile.
Advantages of IPS Empress Veneers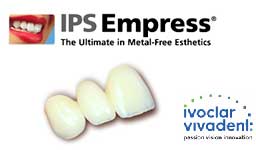 IPS Empress veneers is an established veneers system used and available worldwide with established successful case studies results
IPS Empress veneers provides excellent natural looking aesthetics and transluency
IPS Empress veneers are difficult to stain and durable
IPS Empress veneers enable correction of misalignment, closes gap, re-shapes teeth, repairs chips and mishap teeth
Covers tretracycline stains and other discolorations such as fluorosis
Gum tissue tolerates porcelain well
IPS Empress Veneer Case Gallery