Captek Crowns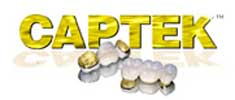 Captek Crown, under Precious Chemicals Company Inc, is the result of 30 years of research by an internationally renowned Prosthodontist and world-class dental technician. Captek crowns enables a natural, long-lasting crowns
Captek crowns uses a patented advanced gold material for good natural aesthetics at the gum line, eliminating unsightly gray or black lines commonly associated with traditional PFM standard crowns.
Advantages of Captek Crowns
Captek provides beautiful and natural-looking crowns and bridges
Captek increase self-confidence with a more confident smile
Captek crowns and bridges are strong and durable
The Captek light-dispersion effects are designed to mimic healthy natural tooth structure
Captek is ideal for matching natural tooth color
Captek's advanced gold material reduces the accumulation of harmful bacteria at the gum line by 90% compared to natural tooth structure
Dental Makeover Dental Crowns Cases at BIDC Dental Hospital
With natural esthetics and advances in techniques, dental crowns and a dental makeover can now be done in a matter of days!
See our case gallery done at Bangkok International Dental Center (BIDC).